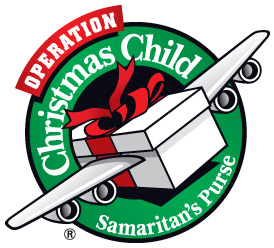 Operation Christmas Child
Help children around the world by partnering with Samaritan's Purse and Operation Christmas Child! This non-profit organization led by Franklin Graham delivers boxes filled with gifts and a message about Jesus to children in need around the world. You can contribute by bringing in small items throughout the year (suggested list below), assisting with packing or making a donation toward shipping ($9 per box).
For more information, contact Carol Morris, Carol Baldwin, or visit www.samaritanspurse.org/occ.
Here are some of the items we can send:
Toys — small cars, small spinning tops, Slinky, puppets, baseballs, tennis balls, foam footballs, small balls of any kind, stuffed animals, jacks, jump ropes, small frisbees, Play Dough, rubber ducks, small games or puzzles, musical instruments (kazoos, small flutes, harmonicas, etc.)
Hygiene Items

— toothbrushes, toothpaste, wash cloths, mild soap (Ivory), combs
— legal pads (4″x6″ or other small pad of paper), sandwich/snack baggies, pens, pencils, erasers, pencil sharpeners, colored pencils, crayons, rulers, stencils, small flashlights (include additional batteries)
Jewlery — necklaces, bracelets, hair bands, pony tail holders, hair clips